Some businesses choose to dedicate a week or even a month of fundraising to the Charlie Watkins Foundation instead of the whole year.
We have corporate partnerships with a wide range of organisations, large and small, take a variety of forms but they all play an especially important part in our work.
Take a look at some of the businesses who have helped us:
Employees from Aston Lark have taken part in a wide variety of activities to raise money for the Charlie Watkins Foundation. These activities have included tuck shops, bake sales, an After Eight challenge, games and dress-down days. We'd like to say a big thank you to Aston Lark – we've loved the creativity and dedication from all the staff.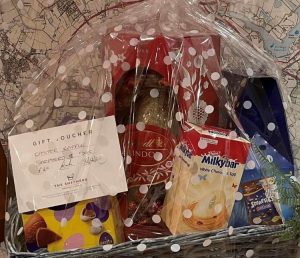 The Shepherd and Dog at Langham dedicated a month to fundraising for the Charlie Watkins Foundation. They hosted a raffle to win a hamper and also held a quiz night. It is so lovely to have small businesses supporting local charities like ours.
Ensors Chartered Accountants dedicated Mental Health Week 2022 to raising money for the Charlie Watkins Foundation and The Mental Health Foundation. Throughout the week they held pizza lunches, played board games and had a wear green day. We are very grateful to all at Ensors for dedicating time to raise awareness of mental health.

Choose the Charlie Watkins Foundation to be your Charity of the Year
1 in 4 people will experience
a mental health problem in their life time
While there are many people that suffer with mental health problems, it is still a taboo when it comes to talking about it and seeking help.
Every year in the workplace, around 72 million days are lost in absence due to mental illnesses (MHFA England)
This year, show your support for not only your employees, but to everyone suffering with a mental illness.
Choosing us to be your charity of the year is a great way to show you care and help a worth while cause at the same time.
Some may choose us as their formal charity partner, for a year or longer. Others will sponsor a Charlie Watkins Foundation event. Some companies organise a one-off fundraising effort and others support us through gifts in kind.
We always strive to work to mutual benefit, and we will always be vocal and endorse your support to your target audiences and to let you know on a regular basis how your kindness has made a difference.
To register your interest in having the Charlie Watkins Foundation as your charity of the year, contact us.