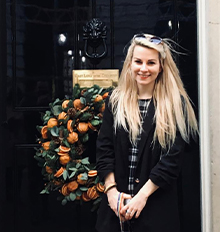 Dannii Jackson
Dannii Jackson is originally from East Yorkshire, but is now living and working in London in the public sector.
She is an avid lacrosse player and if she isn't at the gym, you can find her socialising across London.
Dannii first met Charlie while studying at university and from day one, turned from housemates into best friends. They experienced everything together from sports to late-night library sessions.
Candidly, Dannii acknowledges the fact that she never fully appreciated the toll mental health could have on someone until she met Charlie.
She has since has been an advocate for promoting wellbeing in all aspects of life.
Dannii understands the need to have open discussions about mental health, which prompted her to become a mental health first-aider at work.
Dannii is committed to raising funds and awareness to help young people struggling with their mental health and enabling the foundation to provide a listening ear.