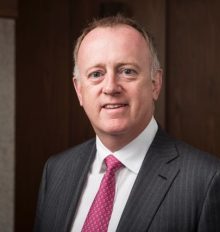 John Neal
John Neal was appointed Chief Executive Officer (CEO) of Lloyd's in October 2018. In this role, John leads and has oversight of the Lloyd's market; a marketplace worth £40bn, with almost 100 syndicates and 50,000 people.
Since joining, he has established the Future at Lloyd's; a multi-year transformation programme that will digitalise trading right across the market, as well as delivering significant improvement in the underwriting performance at Lloyd's.
John has put culture firmly on the Lloyd's agenda, as the marketplace strives to become a more inclusive and diverse environment for all.
He was previously Group CEO of QBE, a global insurance and reinsurance business with a significant Lloyd's footprint. Before becoming CEO, he held a number of roles at QBE including Chief Underwriting Officer and Chief Operations Officer of the firm's European operations.